The presence of microbleeds in the brain should not affect the decision to prescribe anticoagulation to patients after an ischemic stroke, new data suggest.
The new results come from a prespecified substudy of the NAVIGATE-ESUS trial, which compared rivaroxaban to aspirin in patients with embolic stroke of undetermined source (ESUS). This substudy investigated whether patients with microbleeds differ with respect to future risk for intracerebral hemorrhage (ICH) and ischemic stroke if taking rivaroxaban or aspirin.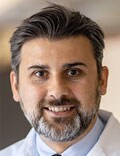 Dr Ashkan Shoamanesh
"We found that microbleeds increased the risk of ischemic stroke, ICH, and mortality, but this increase was the same regardless of which antithrombotic strategy was used," lead author Ashkan Shoamanesh, MD, McMaster University, Hamilton, Canada, commented to Medscape Medical News.
"This is the first randomized trial ever to have examined the interaction between microbleeds and anticoagulation vs aspirin on clinical outcomes and, as such, is a valuable contribution to the field," he added. "Our results suggest that we should not consider microbleeds when making the decision of whether to prescribe an anticoagulant or after an ischemic stroke."
The main NAVIGATE-ESUS trial was stopped early because of increased bleeding in the rivaroxaban group, and anticoagulation is therefore not indicated for patients with ESUS.
However, Shoamanesh pointed out that the underlying disease mechanisms causing microbleeds are similar across stroke subtypes, so these results are likely generalizable to other types of ischemic stroke, such as cardioembolic strokes due to atrial fibrillation.
"Anticoagulants are very effective in patients with cardioembolic stroke, but we hesitate to use them in patients with microbleeds. These results suggest we should not factor in microbleeds in the decision to use anticoagulation. As microbleeds occur in around 30% of such patients, this will affect clinical practice in a meaningful way," Shoamanesh said.https://tpc.googlesyndication.com/safeframe/1-0-37/html/container.html
"Our findings also support the continued use of anticoagulation in patients with ischemic stroke who are incidentally found to have these lesions on imaging," he added.
The study was published online in JAMA Neurology on October 19.
Of the 7213 NAVIGATE-ESUS participants, 3699 (51%) were eligible for the current analysis on the basis of the fact that their baseline clinical MRI reports contained information on microbleeds. Patients with a prior history of symptomatic ICH were excluded from the NAVIGATE-ESUS trial.
Results showed that microbleeds were present in 395 of the 3699 participants (11%). Factors that were independently associated with microbleeds were advancing age (odds ratio [OR] per year, 1.03); East Asian race/ethnicity (OR, 1.57); hypertension (OR, 2.20); multiterritorial infarcts (OR, 1.95); chronic infarcts (OR, 1.78); and occult ICH (OR, 5.23).
The presence of microbleeds was associated with a 1.5-fold increased risk for recurrent stroke, a fourfold increase in risk for ICH, and a twofold increase in risk for all-cause mortality. Strictly lobar microbleeds were associated with an approximately 2.5-fold increased risk for ischemic stroke.
There were no interactions between microbleeds and treatment assignments (rivaroxaban or aspirin) for recurrent stroke, ischemic stroke, or all-cause mortality. The hazard ratios of ICH for patients taking rivaroxaban were similar for patients with microbleeds (HR 3.1) and for those without microbleeds (HR, 3.0).
"In contrast to questions raised from meta-analyses of observational studies, we found no indication of interaction between the effects of rivaroxaban and cerebral microbleeds, including multiple or strictly lobar microbleeds, for the outcome of ICH. Although our analysis lacks the power to confidently exclude such an effect, there were no suggestive numerical trends identified," the researchers write.
"The underlying cerebral small vessel diseases for which cerebral microbleeds are a marker are prevalent in populations with stroke of all causes; hence, our reported lack of effect modification may be generalizable to other stroke subtypes beyond the ESUS population reported here," they add.
"Overall, our results and the existing literature from randomized trials and recent meta-analyses do not support the clinical concern regarding antithrombotic therapy in patients with ischemic stroke and cerebral microbleeds," they conclude.
"We know the presence of microbleeds on MRI increase the risk of ICH during follow-up, which makes us more careful about use of anticoagulation where microbleeds are present. But microbleeds also increase the risk of ischemic stroke," Shoamanesh commented.https://tpc.googlesyndication.com/safeframe/1-0-37/html/container.html
"While the relative risk of ICH in patients with microbleeds is higher than that for ischemic strokes, because ischemic strokes are much more common, the absolute risk of an ischemic stroke is greater than that of an ICH. And it is absolute risks that are more relevant to clinical practice," he said.
Shoamanesh stressed that these results should not be extrapolated to patients with a history of ICH. "Whether microbleeds can modify the effect of anticoagulation in ICH survivors towards net harm has yet to be assessed in randomized controlled trials and remains uncertain. MRI substudies of several ongoing trials assessing optimal stroke prevention in ICH survivors with atrial fibrillation, such as the ongoing global ENRICH-AF trial, will ultimately provide more insights in this regard," he said.
In an accompanying editorial, Laurent Puy, MD, and Charlotte Cordonnier, MD, PhD, Université de Lille, Lille, France, say that Shoamanesh and colleagues have produced more data showing that cerebral microbleeds are markers of the severity of the underlying vessel disease.
"Patients with cerebral microbleeds can be at risk of ICH but, in cohorts of ischemic strokes, they are at even greater risk of recurrent ischemic stroke. In patients at high risk of ischemic stroke, clinicians should stop worrying about a possible bleed and start a solid evidence-based prevention of future ischemic events," they write.
"The present study could contribute to changing the mindset of clinicians. Because the presence of cerebral microbleeds does not seem to modify the effect of rivaroxaban on clinical outcomes, their use in guiding anticoagulation therapy decision-making is then questionable," the editorialists conclude. "Current evidence does not justify avoiding antithrombotic medication in patients with stroke based solely on the presence of cerebral microbleeds."
The study was supported by Bayer AG and Janssen Research and Development LLC. Shoamanesh reports receiving grants, personal fees, or advisory board fees from Bayer AG, Bristol-Myers Squibb, Boehringer Ingelheim, Daiichi-Sankyo, Servier Canada Inc, Janssen, and Bayer Canada during the conduct of the study. Cordonnier reports receiving personal fees from Boehringer Ingelheim and being a steering committee member of the Antithrombotic Treatment With Factor XIa Inhibition to Optimize Management of Acute Thromboembolic Events in Secondary Stroke Prevention (AXIOMATIC-SSP) trial, which is sponsored by Bristol-Myers Squibb.
JAMA Neurol. Published online October 19, 2020. Abstract, Editorial.
Medscape Medical News © 2020
Cite this: Microbleeds Shouldn't Influence Anticoagulation After Stroke – Medscape – Oct 22, 2020.